Specialty Pharmacy Providers: Oncology Medication Distribution and Manufacturer Benchmarking
Highlights of the report:
Download a PDF of these Highlights
Specialty pharmacy providers (SPPs) are becoming an important part of oncology medication manufacturers' channel strategies as self-administered oncology medications continue to emerge from the pipeline. HIRC's report, Specialty Pharmacy Providers: Oncology Medication Distribution and Manufacturer Benchmarking, reviews distribution trends and SPPs' evaluations of oncology medication manufacturers by addressing the following:
How has U.S. drug spending on specialty pharmaceuticals changed over time by specialty therapeutic area and distribution channel?
What estimated share of SPPs' overall prescription volume is accounted for by oncology medications? How does this differ by type of SPP?
What types of contracts are manufacturers willing to offer SPPs for oncology medications (e.g., value-added service contracts, performance-based rebates)?
Which pharmaceutical firms are most frequently nominated as SPPs' overall "Partner of Choice"? What factors drive panelists nominations?
How do manufacturers benchmark with SPPs in account management support and willingness to contract?
Key Finding: As the pipeline continues to deliver more oral oncology medications at a rapid rate, manufacturers are partnering with SPPs in a number of ways to leverage their role as strong clinical partners.
Oncology Medications Account for Nearly One-Third of SPPs' Total Prescription Volume. Oncology is one of the three therapeutic classes currently driving the specialty drug trend and will be the key driver going forward. Specialty pharmacy providers report that oncology medications account for approximately 28% of their total prescription volume on average, however this varies by type of SPP (e.g., independent vs. health system-owned). Of the oncology medications dispensed by SPPs, the vast majority are oral.

IV oncology medications still account for a small portion of an SPPs' business, but could grow should payers and providers increase their utilization of white bagging. The full report provides the breakdown of oncology medication dispensing volume by type of SPP.
Specialty Pharmacy Providers Choose Celgene as their Overall Partner of Choice in Oncology. Celgene is most frequently selected as specialty pharmacy providers' overall "Partner of Choice" in oncology, followed by Novartis Oncology and Pfizer. While account support and willingness to partner with the specialty pharmacy remain the top two driving factors of nominations, regular communication regarding SPP performance emerged as an important factor driving Partner of Choice nominations in 2016.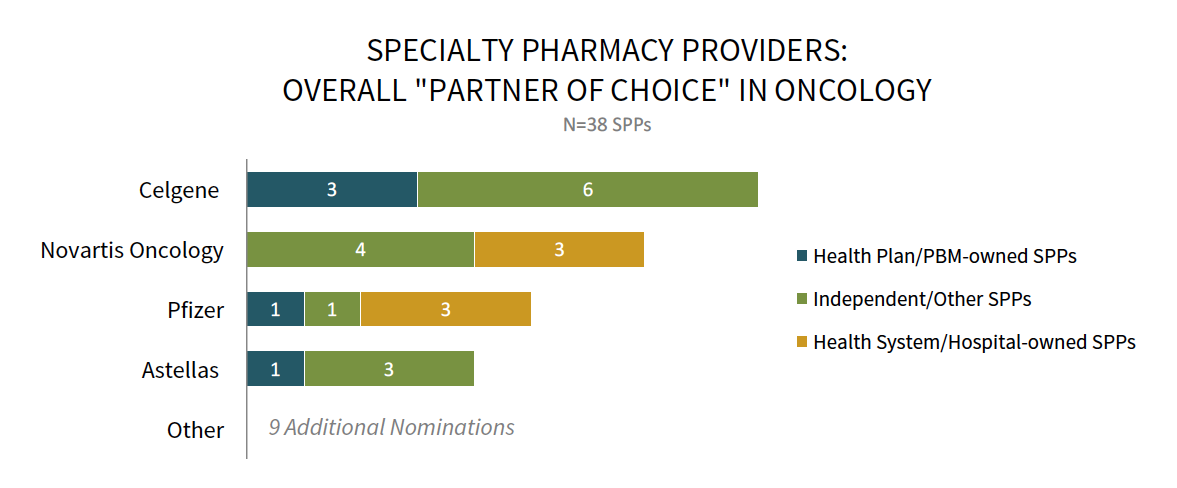 The full report provides SPPs' ratings of over 20 pharmaceutical firms active in oncology in the quality of their account management support, willingness to contract for non-core services, and willingness to offer pricing/performance-based contracts.
Research Methodology and Report Availability. In August, HIRC surveyed 38 specialty pharmacy provider executives representing a variety of ownership types (e.g., PBM-owned, independent, health system/hospital-owned). In addition to extensive secondary research, online surveys and follow-up interviews were used to gather information. The full report, Specialty Pharmacy Providers: Oncology Medication Distribution and Manufacturer Benchmarking, is now available to subscribers at www.hirc.com.
Download a PDF of these Highlights
Download Full Report (Subscribers only) >