Specialty Care Management Programs: Value-Added Offerings and Partnership Opportunities
Highlights of the report:
Download a PDF of these Highlights
Care management programs addressing specialty therapeutic areas are of critical importance to managed care customers; however, many experience notable gaps in the resources required to effectively engage patients. HIRC's report, Specialty Care Management Programs: Value-Added Offerings and Partnership Opportunities, examines customer evaluations of manufacturer-sponsored programs and resources, and identifies unmet customer needs. The report addresses the following questions:
How often do managed care customers adopt and/or utilize specialty care management programs and resources from pharmaceutical firms?
How do specialty medication manufacturers benchmark in customer awareness and overall quality of programs and resources offered?
Which manufacturer-sponsored programs do managed care customers view as best?
Which potential program offerings demonstrate notable gaps in customer interest and perceived pharmaceutical manufacturer investment?
What partnership opportunities exist for manufacturers to engage accounts in meeting unmet needs at the disease state level?
Key Finding: There are numerous opportunities for pharmaceutical firms to partner with managed care accounts in specialty care management to address challenges in medication adherence and beyond.
Genentech, Novartis Oncology, and Johnson & Johnson HCS are Among Leaders in Specialty Care Management. Many managed care customers report utilizing resources from pharmaceutical manufacturers to supplement their care management programs for patients taking specialty medications. Genentech, Novartis Oncology, and Johnson & Johnson HCS are among the leaders in both making customers aware of their specialty care management resource offerings and in the quality of the support offered.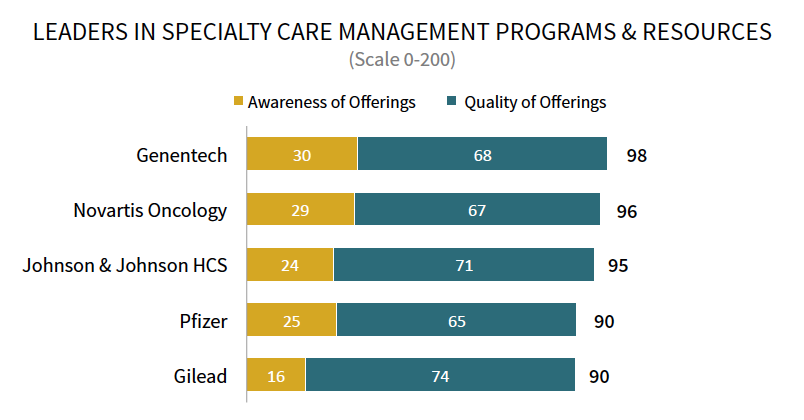 The full report includes ratings of over 35 manufacturers, as well as panelist nominations of best-in-class specialty care management programs offered in the last 12-18 months.
Interest is Highest in Medication Adherence Support and Unbranded Patient Education. Medication compliance and adherence continues to be a challenge for managed care customers, and is of particular concern for patients taking costly specialty medications to manage complex conditions. When asked to rate their interest in a listing of over 15 potential manufacturer support offerings in specialty care management, panelists indicate highest interest in medication adherence reminders and support tools, and unbranded patient education in side-effect management, disease education & treatments, and symptom management.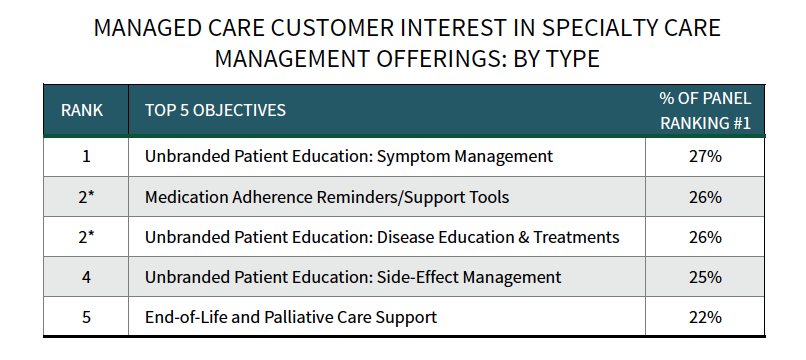 The full report includes ratings for the compete listing of 15+ potential support offerings, including a gap analysis of interest and perceived manufacturer investment in resources. The report also examines customers' program goals and unmet needs across the following ten disease states, revealing opportunities for partnership at the disease-state level:
Crohn's Disease
Cystic Fibrosis
Hemophilia
Hepatitis C
Hyperlipidemia (PCSK9 Inhibitors)
Multiple Sclerosis
Oncology
Psoriasis
Pulmonary Arterial Hypertension
Rheumatoid Arthritis
Research Methodology and Report Availability. In August, HIRC surveyed 106 managed care decision-makers spanning commercial health plans, PBMs, and integrated delivery networks (IDNs). In addition to secondary research, online surveys and follow-up telephone interviews were used to gather information. The report, Specialty Care Management Programs: Value-Added Offerings and Partnership Opportunities, is part of the Specialty Pharmaceuticals Service, and is now available to subscribers at www.hirc.com.
Download a PDF of these Highlights
Download Full Report (Subscribers only) >