Specialty Care Management Programs: Value-Added Offerings and Partnership Opportunities
Highlights of the report:
Download a PDF of these Highlights
Care management of patients taking costly specialty medications is of critical importance to managed care customers; however, many experience notable gaps in their care management program offerings and capabilities. HIRC's report, Specialty Care Management Programs: Value-added Offerings and Partnership Opportunities, examines plans' internal care management capabilities and tools, key decision-makers' assessment of manufacturer-sponsored resources, and identifies unmet customer needs. The report addresses the following questions:
How do commercial health plans approach specialty care management and which other entities are involved in providing such services?
How satisfied are plans with their own internal specialty care management capabilities and tools?
Which manufacturer-sponsored programs and resources do health plan key decision-makers perceive as most valuable?
How do 30+ specialty medication manufacturers benchmark in customer awareness and overall quality of programs and resources offered?
What partnerhsip opportunities exist for manufacturers to engage key accounts in addressing care management-related gaps and unmet needs?
Key Finding: Actionable analytics is among the opportunities for pharmaceutical manufacturers to engage key managed care accounts in challenges related to specialty care management.
Gilead and AbbVie Among Top Manufacturers Nominated for A Most Valuable Specialty Care Management Program. Commercial plans were asked to nominate a manufacturer-sponsored program offering that provides the most value to their organization across eleven specialty disease areas. Gilead is nominated most frequently for its programs and resources addressing hepatitis C and HIV/AIDS, followed by AbbVie, Johnson & Johnson HCS, and Amgen.
The full report provides the complete listing of 24 manufacturers receiving a most valuable specialty care management program nomination.
Actionable Analytics and Addressing End-of-Life Continue to Pose Challenges to Managed Care Plans. Commercial plans were asked to assess their own internal care management capabilities and tools in the (1) Importance in meeting the plan's care/population health management goals and (2) Their level of satisfaction with the plan's capability. Gap analyses reveal opportunities in areas of higher importance and lower satisfaction, namely in predictive analytics/modeling, outcomes data to drive better patient management, and end-of-life/palliative care programs.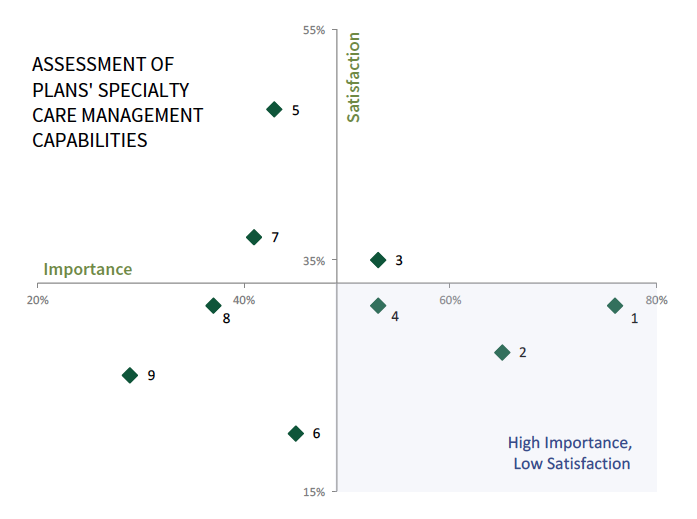 The full report examines a total of seventeen health plan capabilities and tools in importance, health plan satisfaction, and perceived level of availability of support from manufacturers, as well as customer assessments of care management offerings from a listing of 39 specialty medication manufacturers.
Research Methodology and Report Availability. In August, HIRC surveyed 51 pharmacy and medical directors from national, regional, and BCBS plans. Online surveys and follow-up telephone interviews were used to gather information. The Specialty Care Management Programs: Value-added Offerings and Partnership Opportunities report is part of the Specialty Pharmaceuticals Service, and is now available to subscribers at www.hirc.com.
Download a PDF of these Highlights
Download Full Report (Subscribers only) >