Commercial Health Plans: Manufacturer Account Engagement and Contracting for Specialty Pharmaceuticals
Highlights of the report:
Download a PDF of these Highlights
The competitive landscape is heightening across many specialty therapeutic classes as the pipeline delivers new product entries, from new molecular entities with novel mechanisms of action to biosimilars and specialty generics. HIRC's report, Commercial Health Plans: Manufacturer Account Engagement and Contracting for Specialty Pharmaceuticals, reviews how manufacturers are engaging managed care customers through programs, resources, and contracting to ensure access to their specialty portfolios in an increasingly competitive market environment. The report addresses the following questions:
Which specialty medication manufacturers are most often nominated as commercial health plans' overall "Partner of Choice"?
Which specialty-specific manufacturer programs do plans perceive as most valuable?
How do 30+ biopharmaceutical manufacturers benchmark in their willingness to support plans' clinical and operational challenges and willingness to contract?
How has the availability of contracts evolved across 12 specialty therapeutic classes and which contract types are most commonly available?
Which opportunities are there for manufacturers to better engage managed care decision-makers in the area of specialty pharmaceuticals?
Key Finding: Leading manufacturers in the specialty space are working to ensure continued access to their specialty portfolios by addressing commercial plans' clinical and operational challenges and demonstrating a willingness to contract.
Four Companies Dominate the Managed Care Sector as Overall Specialty Medication Manufacturer "Partner of Choice." AbbVie is most frequently nominated as commercial health plans' specialty manufacturer "Partner of Choice," followed by Gilead, Johnson & Johnson HCS, and Amgen. The remaining 15 nominations are shared among 12 companies, demonstrating a growing diversity of manufacturers competing in the specialty space.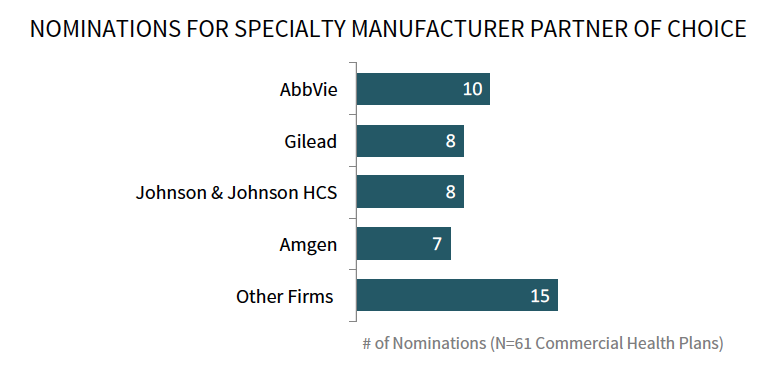 The full report reviews changes in "Partner of Choice" nominations year-over-year and examines the factors driving panelist selections.
The Impact of Competition on the Contracting Environment Varies by Therapeutic Class. Commercial health plan decision-makers were asked to indicate the availability of four contract types across a number of specialty therapeutic classes. Longitudinal analyses reveal varying impacts of recent market activity the contracting environment. In hepatitis C, for example, 68% of plans report frequent availability of flat access rebates tied to preferred position in 2017 and post launch of new therapies (e.g., EPCLUSA, VIEKIRA XR, ZEPATIER), up from 47% of plans in 2015.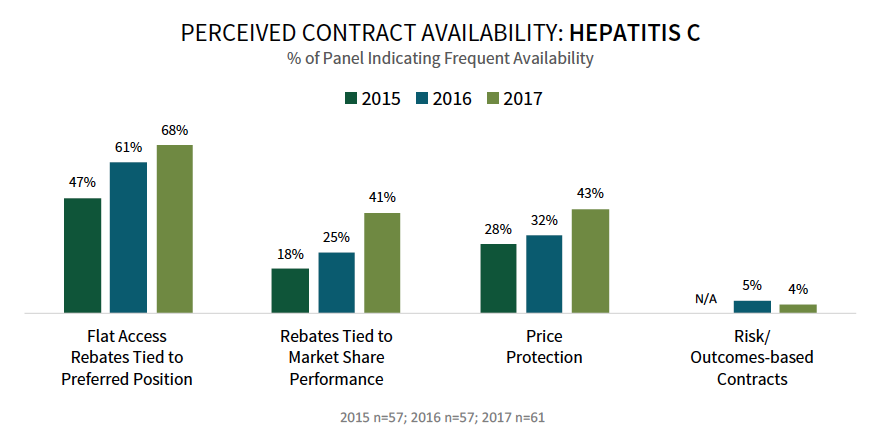 The complete report provides an in-depth review of the contracting environment across the following twelve high profile specialty therapeutic classes, and examines the prevalence of novel contracting approaches, such as risk/outcomes-based and indication-based contracting:
Crohn's Disease
Cystic Fibrosis
Hemophilia A
Hepatitis C
HIV/AIDS
Multiple Sclerosis 
PCSK9 Inhibitors
Psoriasis
Pulmonary Arterial Hypertension
Rheumatoid Arthritis
White Blood Cell Stimulants
Other Generic and Rare Diseases
Research Methodology and Report Availability. In January, HIRC surveyed 61 pharmacy and medical directors from national, regional, and BCBS plans representing 86 million lives. Online surveys and follow-up telephone interviews were used to gather information. The Commercial Health Plans: Manufacturer Account Engagement and Contracting for Specialty Pharmaceuticals report is part of the Specialty Pharmaceuticals Service, and is now available to subscribers at www.hirc.com.
Download a PDF of these Highlights
Download Full Report (Subscribers only) >