Managed Markets Marketing Programs and Account Support Offerings
Highlights of the report:
Download a PDF of these Highlights
As the managed care environment becomes increasingly complex, an understanding of how customer needs are evolving is critical to ensure that programs continue to deliver value. HIRC's report, Managed Markets Marketing Programs and Account Support Offerings, provides an in-depth review of managed care executives' program interests and manufacturer-sponsored offerings across 12 program types. The report addresses the following questions:
What types of programs and resources are currently offered by pharmaceutical firms?
Which programs are managed care customers most interested in?
Which manufacturers lead in their resource offerings across areas of highest interest to managed care decision-makers?
Which manufacturer-sponsored programs stand out to managed care customers as providing the most value across top priority disease states?
What managed care program opportunities exist for manufacturers to distinguish themselves as valued partners?
Key Finding: Several program categories demonstrate notable gaps between customer interest and perceived manufacturer investment, suggesting opportunities for pharmaceutical firms to effectively engage managed care accounts and add value.
GSK and Novo Nordisk Lead in Nominations for A Most Valuable Program Addressing a High Priority Disease State. Managed care customers were asked to nominate a manufacturer-sponsored program offering that provides the most value to their organization across four high priority disease states: airway diseases, behavioral health, cardiovascular conditions, and diabetes. GlaxoSmithKline is nominated most frequently for its programs and resources addressing airway diseases, followed by Novo Nordisk in diabetes.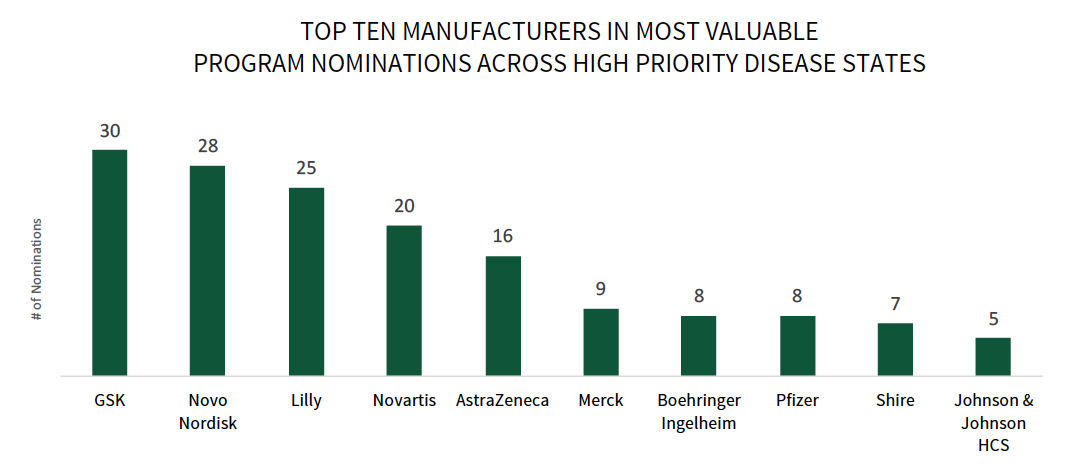 The full report provides the complete listing of 28 manufacturers receiving a most valuable program nomination.
Programs that Support Quality Metric Improvement Continue to be an Unmet Need. Managed care customers were asked to rate their interest and perceived manufacturer investment in twelve program areas spanning patient & provider resources, insight/analytic offerings, and programs to support quality metric improvement. Gap analyses reveal opportunities in areas of higher interest and lower perceived manufacturer investment, namely in Medicare Star ratings support, reducing hospital readmissions, and improving population health management.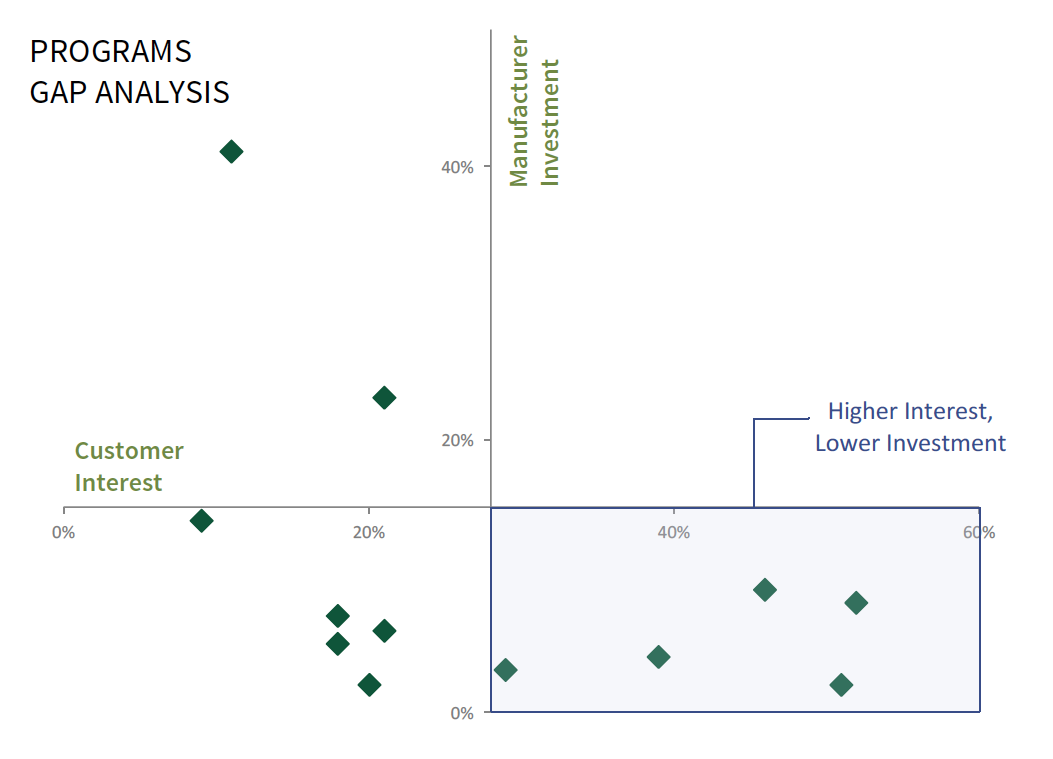 Twelve Program Areas and Sixteen Manufacturers Comprehensively Profiled. In addition to a review of managed care customers' interest and perceived manufacturer investment in program offerings, the complete report provides profiles for the top sixteen leading manufacturers in programs and resources, as well as 12 in-depth profiles of the following program types:
Appropriate Drug Utilization
Comparative Effectiveness Research
Member Access (Copay Cards)
Health Economics Outcomes Research
Managed Care Trend Reports
Medicare Star Ratings Support
Medication Adherence
HEDIS Support
Patient Education/Support
Physician Education
Population Health Management
Reducing Hospital Readmissions
Research Methodology and Report Availability. In August–September, HIRC surveyed 75 key decision-makers from leading commercial health plans and pharmacy benefit managers. Online surveys and follow-up telephone interviews were used to gather information. The Managed Markets Marketing Programs and Account Support Offerings report is part of the Best Programs and Best People Service, and is now available to subscribers at www.hirc.com.
Download a PDF of these Highlights
Download Full Report (Subscribers only) >