Managed Markets Headcount and Organization Study 2017/2018
Highlights of the report:
Download a PDF of these Highlights
Pharmaceutical manufacturers continue to evolve the staffing structures of their managed markets organizations to ensure ongoing access to their products through existing customers, while simultaneously cultivating relationships with emerging entities such as IDNs. HIRC's report, Managed Markets Headcount and Organization Study, assists pharmaceutical manufacturers in understanding trends in headcounts across very large, large, and mid-sized firms. Select key findings include:
Account management and reimbursement support personnel comprise over half of the typical managed markets organization.
Industry panelists report that the biggest factors driving change in managed markets organizations for 2017/2018 were the need to respond to payer consolidation, formulary access, organized provider risk, and state/government price controls.
Headcount is up 3% year-over-year due to increases in account management, reimbursement, marketing, contracting administration, and strategy, policy, and advocacy.
Key Finding: Pharmaceutical firms' overall managed markets headcount increased 3% year-over-year; reported changes reflect a need for greater account coverage, additional reimbursement support for patients, and effective marketing support.
Account Management and Reimbursement Staff Comprise Over Half of the Typical Managed Markets Organization. Pharmaceutical firm's managed markets organizations are comprised mostly of account management and reimbursement support staff, with account management staff accounting for 29% of total managed markets personnel and reimbursement staff accounting for 24%.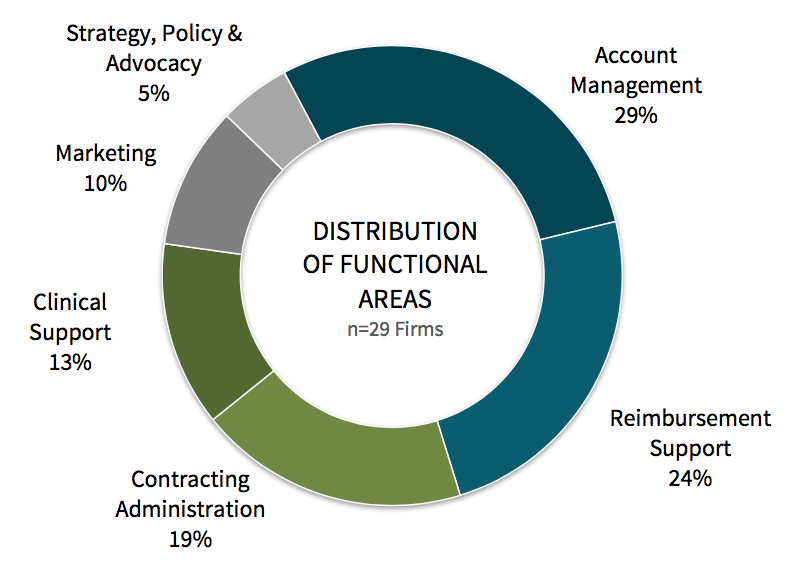 Drivers for Organizational Changes Include Need to Respond to Payer Consolidation, Government Regulation. About 48% of firms (14 of 29) reported customer mergers and consolidation as a primary driver of change in their managed markets organizations, followed by formulary access, organized provider risk, and the need to respond to increasing pricing pressures and government influence and regulation in health care. Additional factors mentioned value-based contracting, biosimilar launches, payer specialty management, and ACA.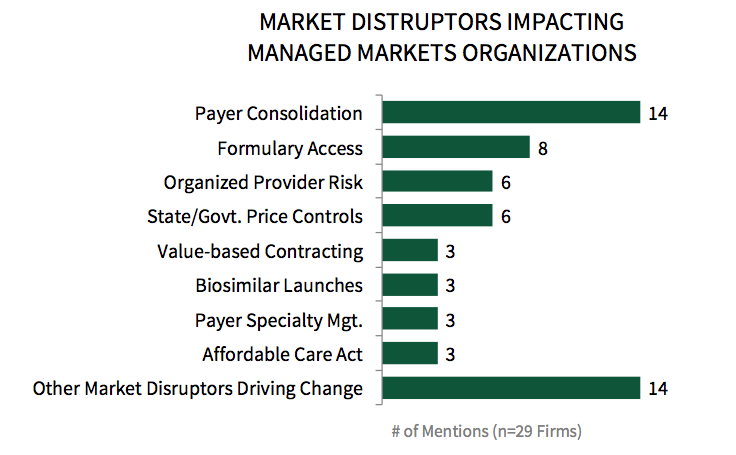 The full report includes detailed analyses of typical managed markets organizations of very large, large, and mid-sized firms, as well distribution of and year-over year changes in managed markets headcounts across the following six functional areas:
Account Management
Marketing
Reimbursement Support
Contracting Administration
Clinical Support
Strategy, Policy, and Advocacy
Research Methodology and Report Availability. HIRC surveyed leading pharmaceutical companies during fall 2017 to gain insights concerning their managed markets headcounts, organizational structures, and the key issues driving their staffing investments. Each company's data are privacy-protected and results are only reported in aggregate to ensure confidentiality. Participating firms receive a customized, confidential analysis of their firm's headcounts compared to a cohort of key competitors. The complete report, Managed Markets Headcount and Organization Study, is available now to HIRC's Managed Markets subscribers at www.hirc.com.
Download a PDF of these Highlights
Download Full Report (Subscribers only) >