Community Oncology Practices: Market Trends and Manufacturer Competitive Assessment
Highlights of the report:
Download a PDF of these Highlights
As hospital acquisitions and industry consolidation continues, community oncology practices look for innovative ways to provide patient access to affordable cancer care. HIRC's report, Community Oncology Practices: Market Trends and Manufacturer Competitive Assessment, reviews community oncology practices' strategic imperatives, quality of cancer care challenges, and assessment of manufacturer reimbursement support services. The report addresses the following:
What are COPs' top strategic imperatives and operational objectives?
What is the status of preferred drug lists and clinical pathways across ten cancer types?
What is the perceived reimbursement environment for top IV brands across ten cancer types? Which brands demonstrate a competitive advantage?
Which firms are most often nominated as COPs' partner of choice? How do firms benchmark in the quality of their reimbursement support services and oncology-related account support?
Key Finding: COPs' top strategic imperatives in 2017 include improving performance on key quality metrics, preparing for value-based reimbursement, and improving operational efficiency.
Genentech Receives the Most Nominations for Best Field-based Customer Facing Reimbursement Support Personnel. Genentech is most frequently nominated as having the best-in-class field-based customer facing reimbursement support personnel, followed by Amgen, Bristol-Myers Squibb, and Novartis Oncology. Factors driving nominations include a firm's ability to demonstrate an understanding of COPs' needs and providing relevant resources, and follow-up or accessibility of support personnel.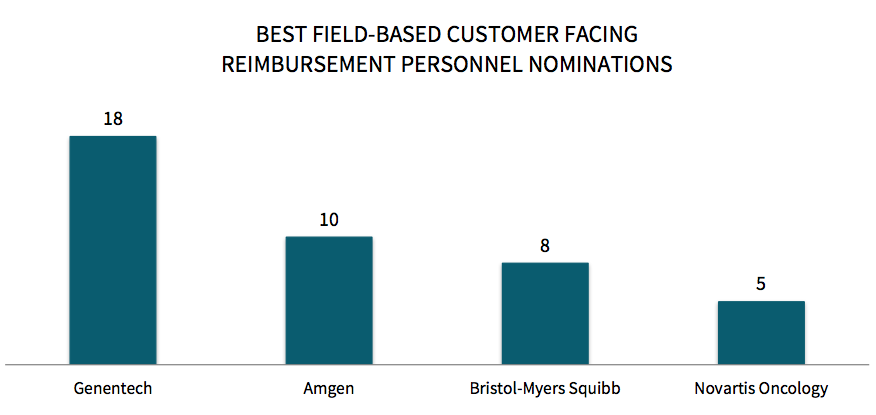 The full report provides a complete listing of best-in-class nominations and a detailed analysis of the factors driving selections year-over-year.
Community Oncology Practice Pharmacy Services. Respondents were asked to elaborate on oncology medication/pharmacy services their practice offers. About 80% (48 of 60) respondents surveyed report their practice offers dispensing of oral oncology medications on-site through outpatient pharmacy. Additionally, about 40% (24 of 60) respondents report their community oncology practice has its own in-house accredited specialty pharmacy.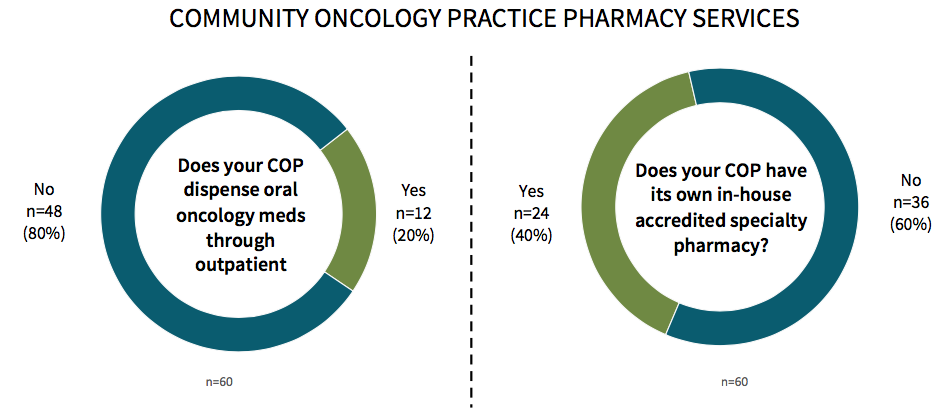 Areas of Collaborative Opportunity Examined. Respondents were asked to rate their satisfaction in their practices' efforts across a number of care management/patient engagement capabilities. On average, COP respondents are most satisfied in their practices' efforts in identifying and enrolling patients in manufacturer patient assistance programs and coordinating with insurance companies to ensure coverage of medications. Survey respondents are least satisfied in their practices efforts in three areas, which may suggest future opportunities for meaningful collaborations:

Research Methodology and Report Availability. In September, HIRC surveyed 60 executives from large, mid-size, and small community oncology group practices. Online surveys and follow-up telephone interviews were used to gather information. The complete report, Community Oncology Practices: Market Trends and Manufacturer Competitive Assessment, is available now to HIRC's Managed Oncology subscribers at www.hirc.com.
Download a PDF of these Highlights
Download Full Report (Subscribers only) >