Commercial Health Plans: Specialty Medication Management and Market Access
Highlights of the report:
Download a PDF of these Highlights
Commercial insurers are aggressively refining and adopting new strategies to better manage specialty medications as costs continue to rise. HIRC's report, Commercial Health Plans: Specialty Medication Management and Market Access, examines plans' evolving management approaches, priorities for 2017, and top concerns moving forward. The report addresses the following questions:
What are plans' top priority operational objectives when it comes to moderating their specialty drug spend? What are plans doing in 2017 to achieve their objectives?
Which therapy classes are targeted most for management? Which classes are potential targets for more aggressive management going forward?
How are plans' formulary and utilization management tactics evolving?
What is the specialty product market access landscape across twelve therapeutic areas? Which products demonstrate a competitive advantage in 2017?
Which brands do plans most often nominate as their overall "Product of Choice" across twelve specialty therapeutic areas? How to health plan key decision-makers perceive and define value as it pertains to specialty drugs?
Key Finding: Better management of specialty medications covered under the medical benefit is a key focus area for commercial MCOs in 2017, with plans making headway in site of care re-direction programs and expanded use of step therapy in select therapeutic categories.
Tighter Utilization Management is Among Plans' Top Activities to Manage Specialty Drug Costs in 2017. Commercial MCO decision-makers were asked to report their plan's top activities of focus in 2017 to better manage the cost and utilization of specialty medications. Responses fall into three primary areas of focus: (1) Tighter utilization management (e.g., stricter or expanded use of traditional UM tactics & clinical pathways), (2) Better management of medications covered under the medical benefit, and (3) Formulary and benefit design changes (e.g., closed formularies and more complex tier structures).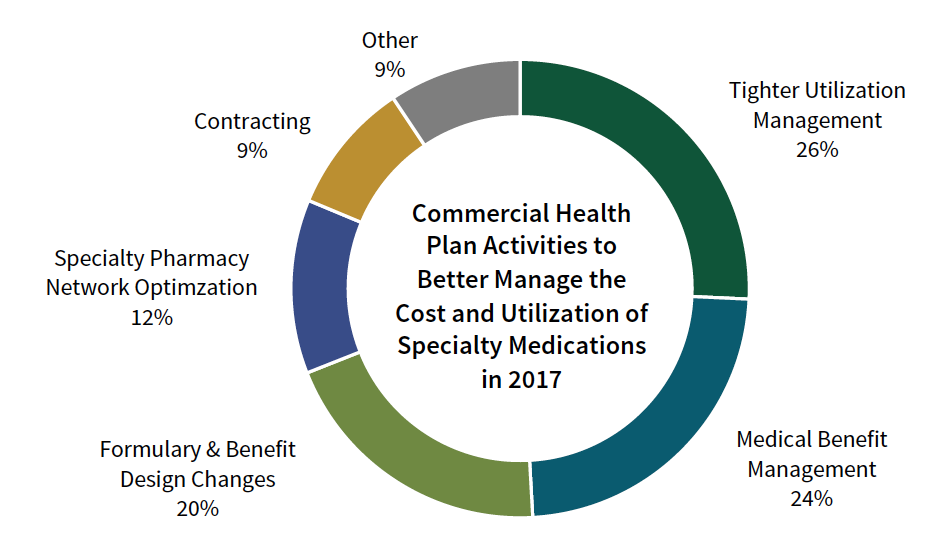 The full report examines each of these areas in detail, in addition to how commercial health plan approaches have evolved over time.
Over Half of Plans Report Having a Site of Care Management Program In-Place for Specialty Infusions. The percentage of plans with a program in-place to redirect patients to the lowest cost sites of care for specialty infusions has increased notably over the last two years. Fifty-seven percent of commercial health plans report actively driving patients to preferred sites of care in 2017, compared to just 19% of plans in 2015. Furthermore, only 7% of plans in 2017 report no plans to develop a site of care management program, compared to 31% in 2015.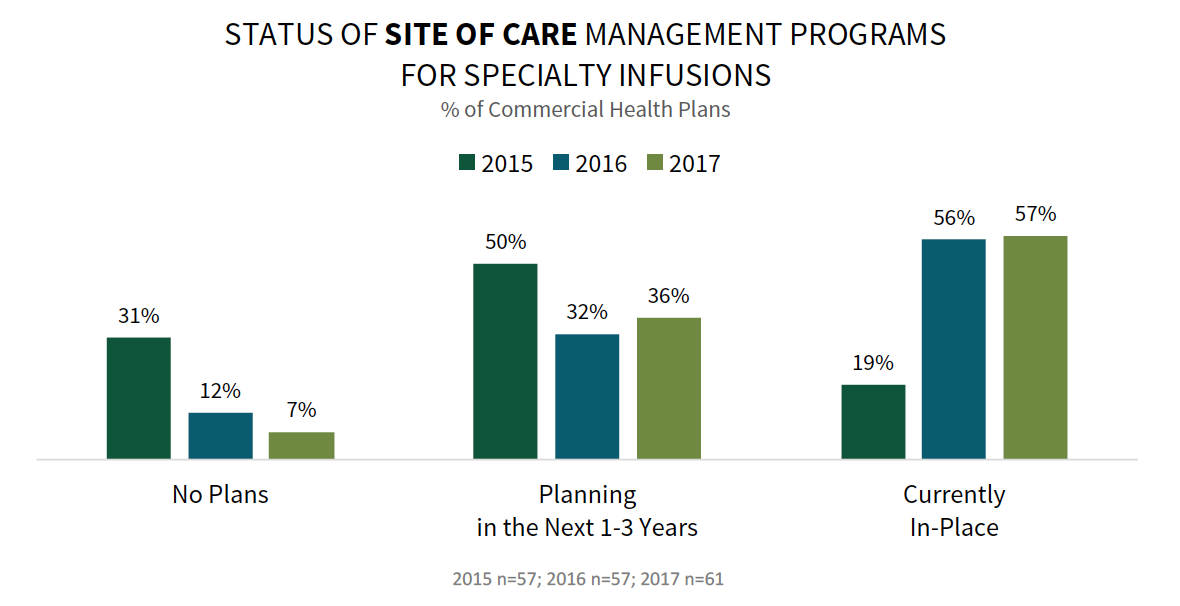 Site of care management is just one way that plans are working to better manage specialty medication costs under the medical benefit. The full report reviews plans' evolving approaches, including the application of utilization management tactics like step therapy.
The complete report also provides an in-depth review of the market access landscape across the following twelve high profile specialty therapeutic classes:
Crohn's Disease
Cystic Fibrosis
Hemophilia A
Hepatitis C
HIV/AIDS
Multiple Sclerosis
PCSK9 Inhibitors
Psoriasis
Pulmonary Arterial Hypertension
Rheumatoid Arthritis
White Blood Cell Stimulants
Other Generic and Rare Diseases
Research Methodology and Report Availability. In January, HIRC surveyed 61 pharmacy and medical directors from national, regional, and BCBS plans representing 86 million lives. Online surveys and follow-up telephone interviews were used to gather information. The Commercial Health Plans: Specialty Medication Management and Market Access report is part of the Specialty Pharmaceuticals Service, and is now available to subscribers at www.hirc.com.
Download a PDF of these Highlights
Download Full Report (Subscribers only) >