Commercial Health Plans: Operational Objectives in Oncology Management and Market Access Metrics
Highlights of the report:
Download a PDF of these Highlights
The oncology market environment remains tense as medication prices continue to rise and concerns around managing the total cost of care and patient affordability accelerate. HIRC's report, Commercial Health Plans: Operational Objectives in Oncology Management and Market Access Metrics, reviews commercial plans' approaches to oncology management and examines the resulting market access landscape across ten cancer types. The report addresses the following:
Which operational objectives drive health plans' decision-making in oncology medication management?
What is the status of payers' utilization management tactics for oncology medications across benefits?
What is the status of oncology clinical pathway adoption and development across ten cancer types?
What is the rationale for selecting oral and IV oncology medications? What are the methods used to promote preferred products across ten cancer types?
Key Finding: On average, national health plans invest more compared to regional and BCBS plans in tactics to optimize their approach to oncology management.
Payers' Top Concern Related to Improving the Cancer Patient Experience is Managing Cost of Care. Commercial pharmacy and medical directors were asked to provide the plan's single biggest concern when it comes to improving the cancer patient experience. Plans' top concern related to improving the patient experience is managing the cost of care to be more accessible and affordable for members, followed by optimizing palliative care efforts, and standardizing care through clinical pathways and guideline adherence.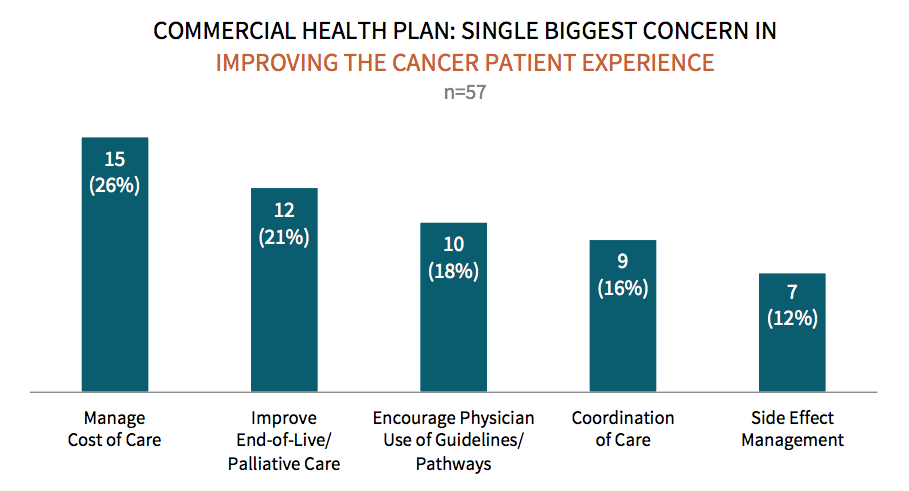 The full report provides a complete list of plans' top concerns in improving the cancer patient experience, managing access to oncology medications, and optimizing outcomes.
Nearly Half of Commercial Health Plans Surveyed Report Having an Oncology Preferred Drug List (PDL). Respondents were asked to indicate whether the plan designates any oncology medication(s) as 'preferred' across ten cancer types. Nearly half of commercial plans surveyed (47%) report having a preferred drug list in place for oral and/or IV oncology medications. However, preferred drug list activity varies greatly by cancer type, with plans most likely to have preferred oral agents in chronic myeloid leukemia and prostate cancer.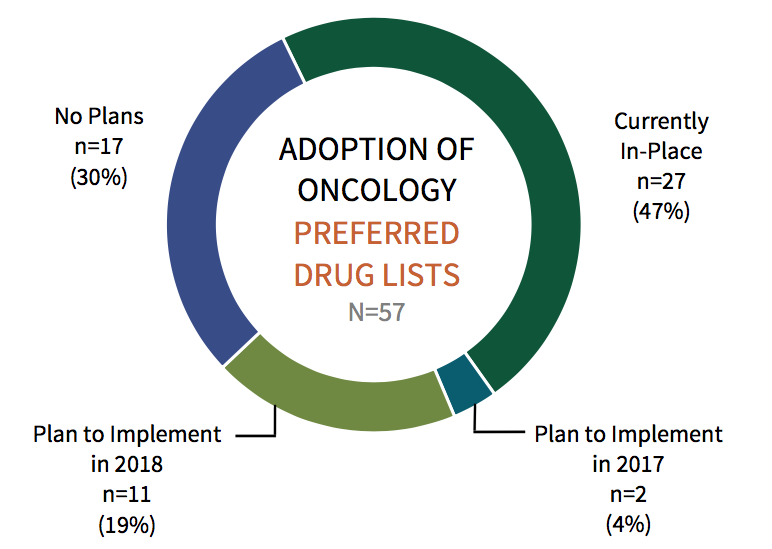 Plans with Preferred Products in Prostate Cancer Most Often Use Step Therapy to Promote Use of the Medication. Twenty-one commercial health plan panelists report designating at least one oral or IV medication as preferred in prostate cancer. Of those respondents, 81% (17 of 21) report most often using step therapy to promote use of the medication(s), followed by clinical pathways, and lower patient cost share.
Research Methodology and Report Availability. In March, HIRC surveyed 57 pharmacy and medical directors from national, regional, and BCBS plans representing 82 million lives. Online surveys and follow-up telephone interviews were used to gather information. The complete report, Commercial Health Plans: Operational Objectives in Oncology Management and Market Access, is available now to HIRC's Managed Oncology subscribers at www.hirc.com.
Download a PDF of these Highlights
Download Full Report (Subscribers only) >