Commercial Health Plans: Manufacturer Account Engagement and Contracting for Oncology Medications
Highlights of the report:
Download a PDF of these Highlights
As the oncology medication market becomes notably more competitive, manufacturers are increasing efforts to build collaborative engagements with commercial health plans. HIRC's report, Commercial Health Plans: Manufacturer Account Engagement and Contracting for Oncology Medications, examines the contracting environment and payer evaluations of 22 firms active in oncology. The report addresses the following:
Which manufacturers are most often nominated as plans' overall "Partner of Choice" in oncology, and what factors drive nominations?
How do firms benchmark in contracting and support of oncology-related initiatives?
How do payers perceive the current contracting environment for both oral and IV oncology medications?
Which manufacturer offerings are most compelling to commercial health plan decision-makers to support their oncology-related needs?
Key Finding: CER for competing oncology medications is the primary unmet need among payers. Actionable insights and analytics are emerging as central to gaining access and attention of key decision makers, and the cornerstone of long-term working relationships.
Novartis Oncology Receives the Most Oncology "Partner of Choice" Nominations. Novartis Oncology is most frequently nominated as the commercial health plan oncology partner of choice, followed by Genentech and J&J HCS. In the last year, Novartis Oncology, J&J HCS, and Gilead have meaningfully increased in number of nominations. Factors driving partner of choice nominations include a firm's willingness to contract and account management support.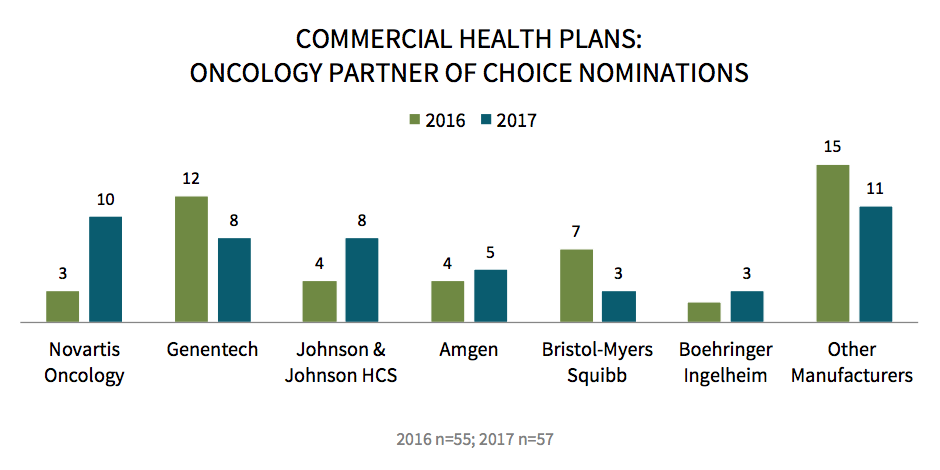 The full report includes the complete listing of partner of choice nominations and a detailed analysis of the factors driving panelists' selections.
Payers' Report the Most Contracting Activity in Prostate and Lung Cancer. Panelists participating in follow-up interviews were asked to indicate in which cancer areas they have observed the most contracting activity in the past 12 months. Prostate and lung cancer have the most reported contracting activity due to factors such as increased market competition, oral medication options, and expanded coverage for certain cancer types.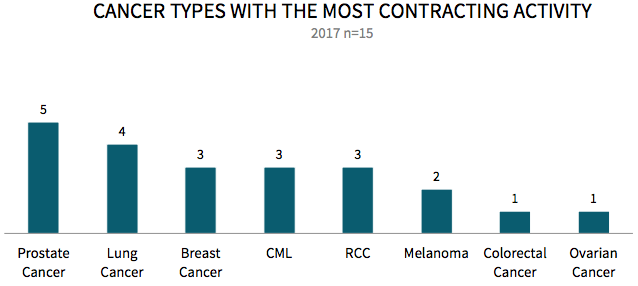 Risk/Outcomes-based Contracting for Oncology Medications Remains Low. Respondents were asked to share the status of risk-sharing contracts within their organization for oncology medications. The majority of respondents (70%) do not have risk/outcomes-based contracts in place for oncology medications due to numerous obstacles and challenges. Common barriers include the operational burden of implementing the contract, challenges in data gathering and analysis, the complexity and ambiguity of oncology-related outcomes, and uncertainty of savings.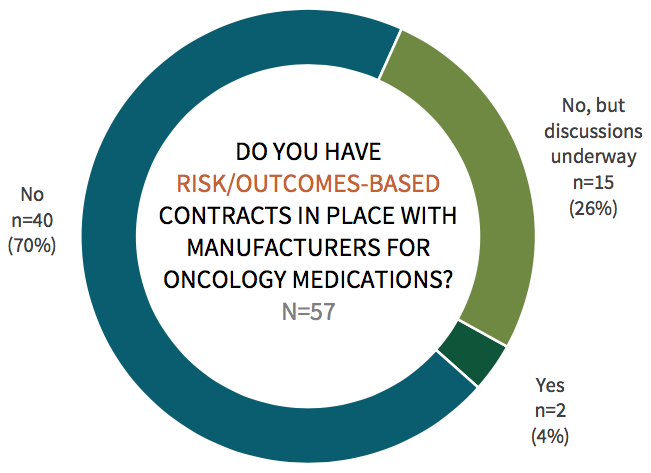 Research Methodology and Report Availability. In March, HIRC surveyed 57 pharmacy and medical directors from national, regional, and BCBS plans representing 82 million lives. Online surveys and follow-up telephone interviews were used to gather information. The complete report, Commercial Health Plans: Manufacturer Account Engagement and Contracting for Oncology Medications, is available now to HIRC's Managed Oncology subscribers at www.hirc.com.
Download a PDF of these Highlights
Download Full Report (Subscribers only) >