Biosimilars and Specialty Generics: Market Environment and Case Studies in Payer Management
Highlights of the report:
Download a PDF of these Highlights
The market environment for biosimilars continues to evolve with a rapid increase in filed applications and approvals over the last 12-18 months. While the overall impact is unknown, payers remain optimistic that biosimilars will eventually result in specialty drug savings. HIRC's report, Biosimilars and Specialty Generics: Market Environment and Case Studies in Payer Management, examines the current market environment surrounding biosimilars and five unique therapeutic classes with biosimilar or specialty generic product approvals. The report addresses the following questions:
What is the uptake and adoption of biosimilar and specialty generic products to date?
What is the contracting environment in therapeutic classes with biosimilar or specialty generic competition?
Which factors drive commercial plans' formulary preferences pertaining to biosimilars/specialty generics and their reference brands?
How are payers promoting the use of either preferred brands or biosimilars/specialty generics?
Key Finding: The pace of biosimilar adoption among commercial plans has varied on a case-by-case basis depending on perceived clinical similarity, the innovator brand manufacturer's response, and the nature of the therapeutic class. However, case studies reveal an emerging pattern of market reaction.
Commercial Health Plan Adoption of the First Biosimilar to Market Increased Over Three Years. The percentage of commercial plans preferring Zarxio over the reference brand has increased from 20% in 2016 to 36% in 2017, and is projected to grow to 48% for the 2018 plan year. However, as a short-term therapy, plans that prefer the biosimialr are far more likely to mandate the biosimilar for new starts than switch current brand patients to the biosimilar. In addition, long-acting G-CSF (Neulasta) with large market share remains a barrier to the overall opportunity for plan savings in the white blood cell stimulants class.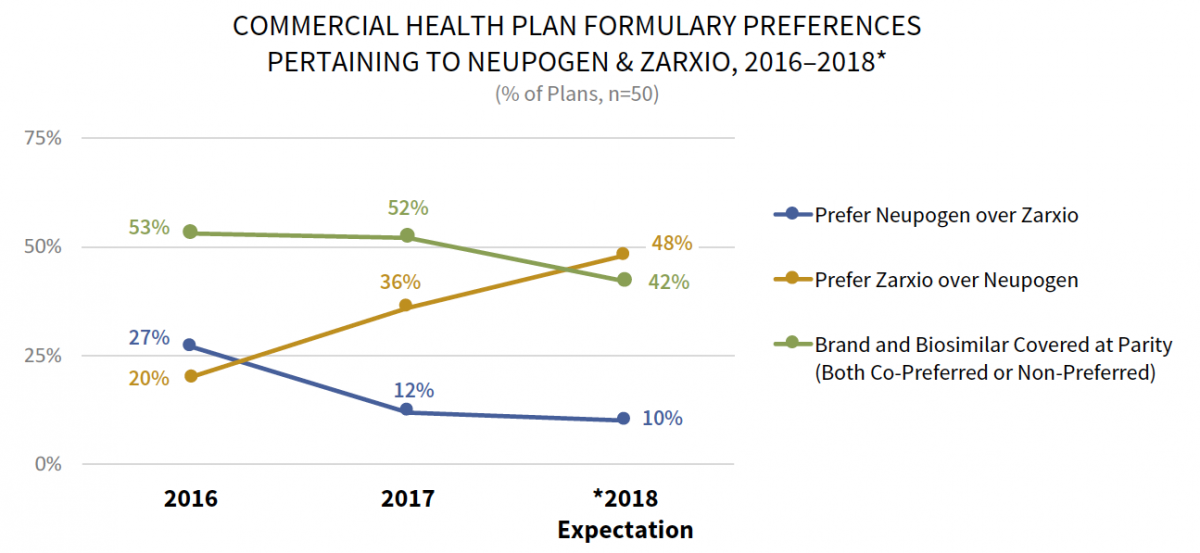 Plan Perceptions of Clinical Similarity a Top Factor Impacting Biosimilar Decision-Making. Commercial MCO decision-makers were asked to consider and rank order a listing of factors that could influence their biosimilar formulary decisions (independent of pricing and contracting) based on their level of impact. Two factors were identified as having the greatest impact on plans' formulary decisions: (1) Interchangeability/ substitutability, (2) Pharmacy Budget/Management of the Reference Product. Without a biosimilar receiving interchangeable status to date, case studies suggest that plans' perception of clinical similarity could be enough to prefer a biosimilar over a brand (in addition to pricing and contracting).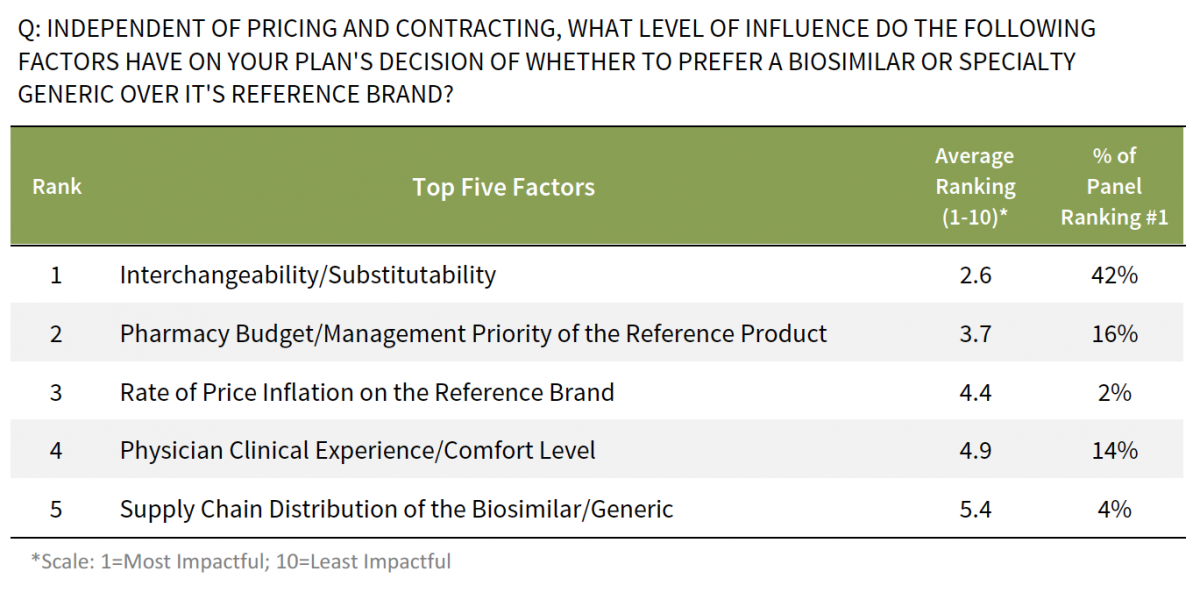 Five In-Depth Cases Suggest an Emerging Pattern of Market Response to Biosimilars and Specialty Generics. The full report examines biosimilar and specialty generic approvals across five therapeutic classes. Case studies include formulary status (including expectations for the 2018 plan year), the contracting environment, plans' utilization management tactics, and the factors impacting formulary decisions. These cases, taken together, reveal a pattern of market reaction and adoption over time. The therapeutic classes examined include:
White Blood Cell Stimulant Biosimilars
IV TNF Inihibitor Biosimilars
Self-Injectable TNF Inhibitor Biosimilars (Prospective)
Multiple Sclerosis Specialty Generics
Follow-on Insulins
Research Methodology and Report Availability. In September–October, HIRC surveyed 50 pharmacy and medical directors from national, regional, and BCBS commercial health plans. Online surveys and follow-up telephone interviews were used to gather information. The Biosimilars and Specialty Generics: Market Environment and Case Studies in Payer Management report is part of the Specialty Pharmaceuticals Service, and is now available to subscribers at www.hirc.com.
Download a PDF of these Highlights
Download Full Report (Subscribers only) >