Specialty Pharmacy Providers: Manufacturer Engagement and Contracting Trends
Highlights of the report:
Download a PDF of these Highlights
Specialty Pharmacy Providers: Manufacturer Engagement and Contracting Trends Specialty medication manufacturers engage specialty pharmacy providers (SPPs) in a variety of ways, leveraging their ability to shape the brand experience and enhance access. HIRC's report, Specialty Pharmacy Providers: Manufacturer Engagement and Contracting Trends, examines SPPs' evaluations of manufacturers, reviews trends in contracting, and provides insights into best practices in engaging with specialty pharmacies. The report addresses the following questions:
Which pharmaceutical firms are most frequently nominated as SPPs' overall "Partner of Choice"? What factors drive panelists' selections?
What types of collaborations occur between manufacturers and specialty pharmacies? Which manufacturers most successfully engage SPPs in collaborative partnerships?
How do manufacturers benchmark with SPPs in account management support and willingness to contract?
What do SPPs perceive as the availability of contracts offered by manufacturers? How does this differ by therapeutic class and type of specialty pharmacy (e.g., PBM-owned vs. independent)?
Key Finding: Manufacturers continue to engage specialty pharmacies in collaborations and contract arrangements that leverage their role as strong clinical partners, enhancing adherence and patient access to brands.
Pfizer, AbbVie, and Gilead Among Manufacturers Best Engaging SPPs in Collaborative Initiatives. SPP decision-makers were asked to nominate a manufacturer as best-in-class in clinical and data collaboration initiatives over the last 12-18 months. Pfizer is most frequently nominated for collaborations aimed to enhance patient clinical management and adherence. AbbVie and Gilead follow in number of best-in-class collaboration nominations.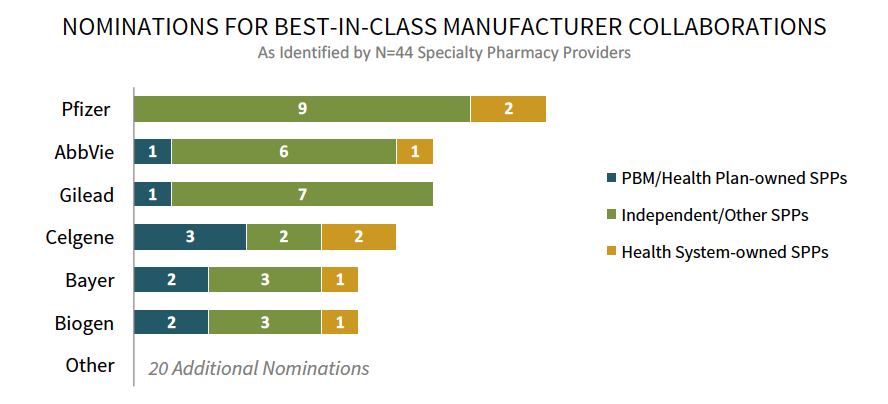 The complete listing of companies nominated is provided in the full report, along with overall "Partner of Choice" nominations, and benchmark ratings for 35 companies.
Manufacturer Contracting Approaches with SPPs Vary by Therapeutic Class and SPP Ownership Type. Manufacturers differ in their approach to the specialty pharmacy channel, both in how they manage accounts and how they contract. HIRC examined SPPs' perceptions of the contracting environment across four different contract types, such as performance-based rebates and contracts for non-core clinical and data services. When it comes to non-core data service contracts, for example, 34% percent of SPPs perceive frequent availability for oral oncology medications, compared to just 3% in HIV/AIDS.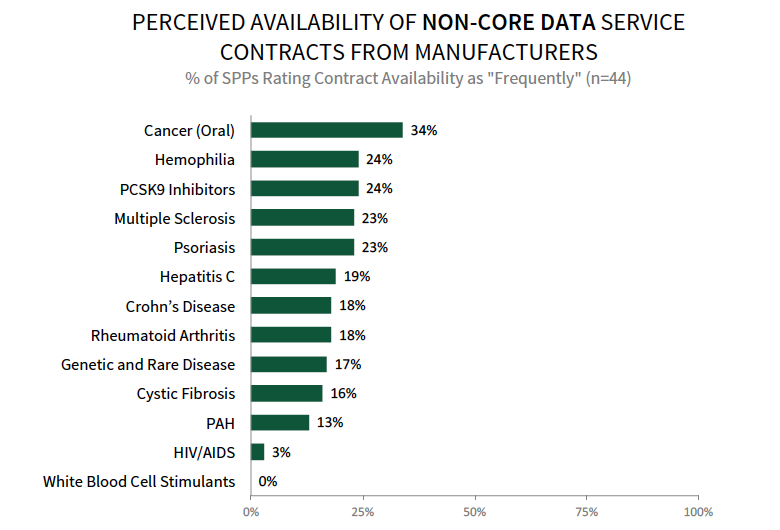 In addition to insights into best practices in specialty pharmacy engagement, the report examines manufacturer benchmark ratings and perceived contract availability, analyzed and segmented by the following SPP ownership types:
PBM/Health Plan-owned Specialty Pharmacies
Health System-owned Specialty Pharmacies
Independent and All Other Specialty Pharmacies (Retail, Wholesaler-owned)
Research Methodology and Report Availability. In May/June, HIRC surveyed 44 specialty pharmacy provider executives, representing a variety of ownership types. In addition to extensive secondary research, online surveys and follow-up telephone interviews were used to gather information. The report, Specialty Pharmacy Providers: Manufacturer Engagement and Contracting Trends, is part of the Specialty Pharmaceuticals Service, and is now available to subscribers at www.hirc.com.
Download a PDF of these Highlights
Download Full Report (Subscribers only) >