ACOs: Quality Objectives and Activities to Improve Patient Outcomes & Reduce Costs
Highlights of the report:
Download a PDF of these Highlights
As payers drive providers towards more advanced payment models, Accountable Care Organizations (ACOs) continue to implement a number of quality and clinical initiatives to enhance value and reduce the total cost of care. HIRC's report, ACOs: Quality Objectives and Activities to Improve Patient Outcomes and Reduce Costs, examines ACOs' quality goals, population health management capabilities, and activities in prescription medication management. The report addresses the following questions:
Which systems and metrics are utilized by ACOs to measure quality of care?
What do ACOs report as their top management objectives across common chronic and specialty conditions? What challenges remain?
Which population health management capabilities do ACOs deploy to assist them in meeting their quality goals?
What mechanisms do ACOs utilize to influence physician prescribing behavior? What is the landscape of ACO physician decision support systems, such as independent formularies and standardize treatment pathways?
Key Finding: ACOs continue to invest in activities that enable them to deliver cost-effective, evidence-based care as they move further along the risk contiuum towards more advanced payment models.
Reducing the Total Cost of Care is a Top ACO Quality Objective Across Disease State Categories. ACO decision-makers were asked to indicate their goals and objectives across a listing of seven broad disease categories. While objectives vary by disease state, reducing the total cost of care is among ACOs' top goals across a number of disease areas. Within cardiovascular diseases, for example, 69% of ACOs are actively seeking to reduce the total cost of care, in addition to reducing hospital readmissions (69%) and reducing ER utilization (64%).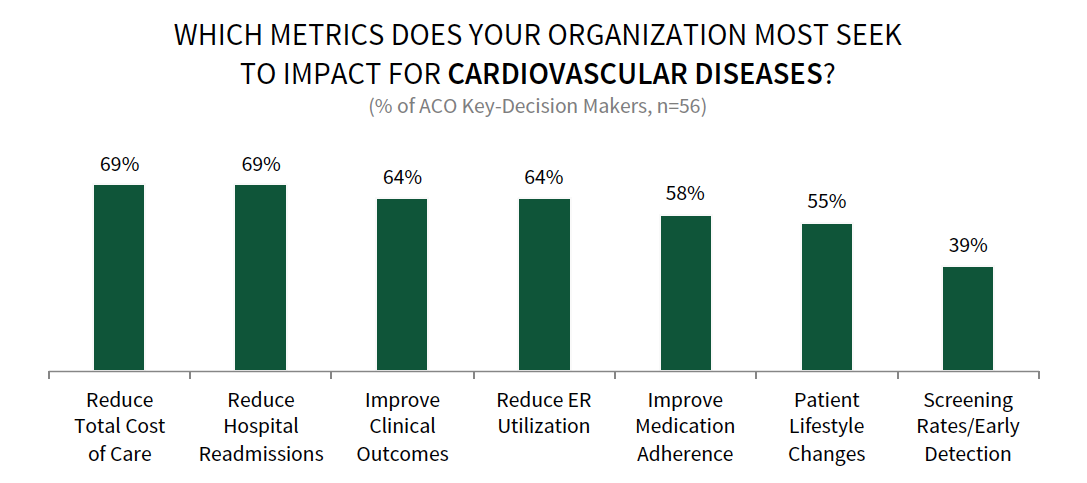 Over Half of ACOs Steer Providers Towards Prescribing Lower Cost Medication Therapies When Available. While Medicare ACOs are not yet responsible for Part D drug costs, outpatient pharmacy costs can be included in the cost metrics that determine an ACO's level of shared savings in arrangements with commercial insurers. ACOs do take action in managing the cost of prescription medications, most often by steering providers towards generics and other low cost alternatives. Sixty-one percent of ACOs report having goals in-place regarding generics utilization and 19% are planning to implement a goal by 2020.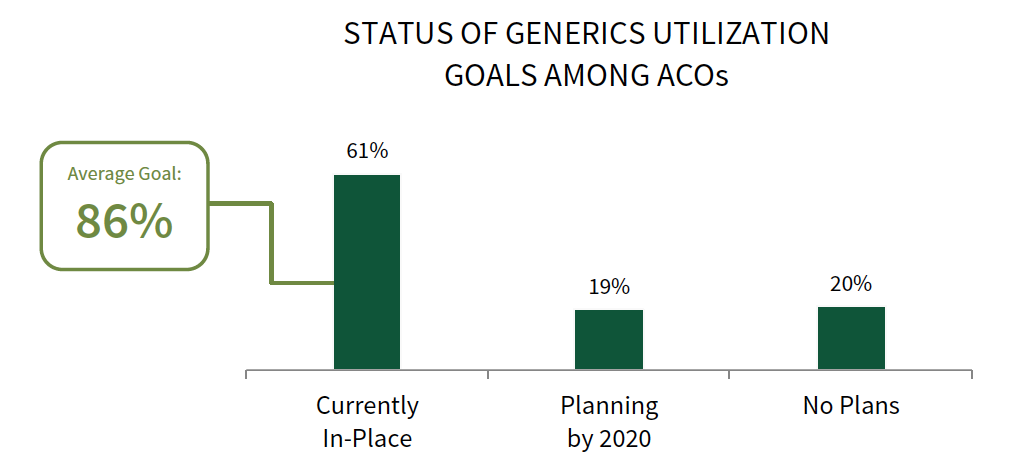 The full report explores additional ACO activities related to achieving quality and cost objectives, such population health management capabilities and programs across top disease states, and the landscape of independent ACO formularies and standardized treatment pathways.
Research Methodology and Report Availability. In June, HIRC surveyed 64 ACO key decision-makers. Online surveys and follow-up telephone interviews were used to gather information. The full report, ACOs: Quality Objectives and Activities to Improve Patient Outcomes and Reduce Costs is part of the Organized Providers Service, and is now available to subscribers at www.hirc.com.
Download a PDF of these Highlights
Download Full Report (Subscribers only) >