ACOs: Market Landscape and Strategic Imperatives
Highlights of the report:
Download a PDF of these Highlights
The Accountable Care Organization (ACO) market has grown at a rapid pace over the last few years, and all signs point to the ACO entity continuing as a player in the health care landscape for the foreseeable future. HIRC's report, ACOs: Market Landscape and Strategic Imperatives, examines recent market activity, the status of alternative payment models and risk, and ACOs' strategic imperatives. The report addresses the following questions:
What is the size and scope of the ACO market in 2017, and how has it evolved?
What is the status of ACOs' participation in commercial insurer and Medicare alternative payment model programs for ACOs?
Which market trends and dynamics are likely to impact ACOs going forward?
What do ACO executives identify as their most urgent strategic imperatives for 2017? What are ACOs doing over the next 12-18 months to drive toward their top priority imperatives?
Key Finding: The growth of the ACO market is expected to continue, and market dynamics will likely push existing ACOs along the risk continuum towards more advanced payment models.
Shared Savings Continues as Dominant Payment Model for ACOs Across Both Public and Private Insurers. HIRC examined ACOs' participation in government and commercial alternative payment model programs. Shared savings is the most common payment model across both public and private insurers; however, the expansion of ACOs' participation in models such as Medicare's Next Generation ACO program suggests that risk tolerance among some ACOs is increasing. Furthermore, a majority of ACOs participating in commercial insurers' ACO programs report some responsibility for drug costs as part of the total cost of care.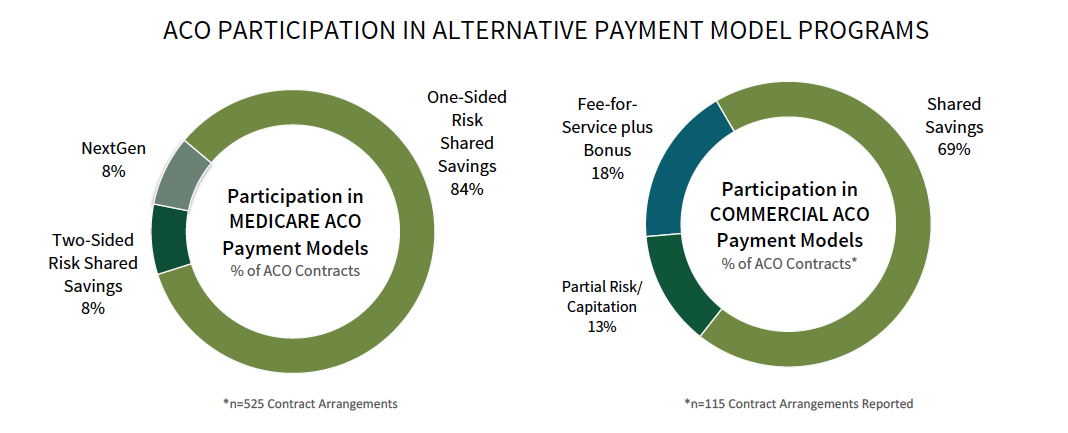 In addition to detail on Medicare and commercial insurer ACO payment models, including responsibility for pharmacy costs in commercial programs, the full report examines the landscape and growth of ACOs over time.
Reducing the Total Cost of Care Identified as ACOs Top Strategic Imperative. Reducing the total cost of care is most often identified as ACOs' top strategic imperative for 2017, followed by three secondary imperatives. Taken together, the top four strategic imperatives reflect ACOs' efforts to optimize operations in areas that are key to their long-term ability to manage risk and successfully take on value-based contracts. ACOs' operational efforts may impact utilization of pharmaceuticals as they will align utilization to drive their objectives.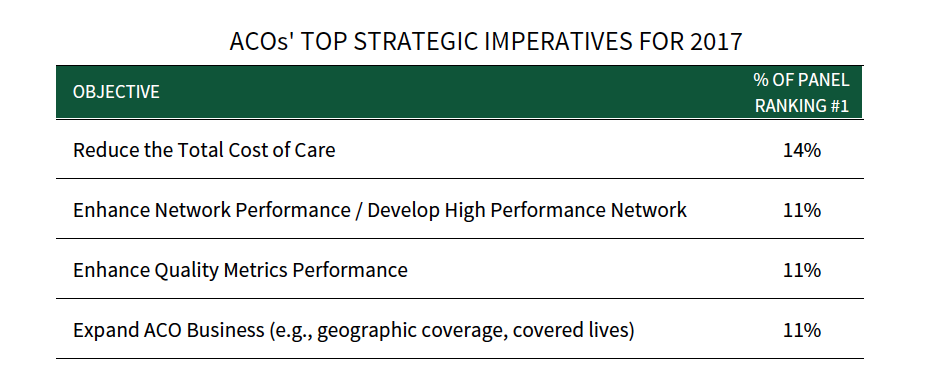 The full report provides the complete listing of strategic imperatives, examines ACOs' top strategic imperatives in more detail, and provides detailed profiles for ten select industry-leading Accountable Care Organizations.
Research Methodology and Report Availability. In June, HIRC surveyed 64 ACO key decision-makers. Extensive secondary research, online surveys, and follow-up telephone interviews were used to gather information. The full report, ACOs: Market Landscape and Strategic Imperatives, is part of the Organized Providers Service, and is now available to subscribers at www.hirc.com.
Download a PDF of these Highlights
Download Full Report (Subscribers only) >