Academic Institution & Health System-based Cancer Centers: Market Trends and Manufacturer Competitive Assessment
Highlights of the report:
Download a PDF of these Highlights
In an increasingly value-based reimbursement environment, cancer centers' look for opportunities to better manage overall health care inflation and rising oncology medication costs. HIRC's report, Academic Institution & Health System-based Cancer Centers: Market Trends and Manufacturer Competitive Assessment, reviews cancer centers' strategic imperatives, quality of cancer care challenges, and assessment of manufacturer reimbursement support. The report addresses the following:
What are cancer centers' top strategic imperatives and operational objectives?
What is the status of preferred drug lists and clinical pathways across ten cancer types?
What is the perceived reimbursement environment for top IV brands across ten cancer types? Which brands demonstrate a competitive advantage?
Which firms are most often nominated as cancer centers' partner of choice? How do firms benchmark in the quality of their reimbursement support services and oncology-related account support?
Key Finding: Cancer centers' top strategic imperatives in 2017 range from improving performance on key quality metrics to improving operational efficiency and care coordination.
Genentech Receives the Most Oncology "Partner of Choice" Nominations. Genentech is most frequently nominated as the cancer center oncology manufacturer partner of choice for the second year in a row, followed by Amgen, Bristol-Myers Squibb, and Novartis Oncology. Factors driving partner of choice nominations include a firm's ability to demonstrate an understanding of cancer center needs and providing relevant resources, and the relative quality of those programs and/or resources.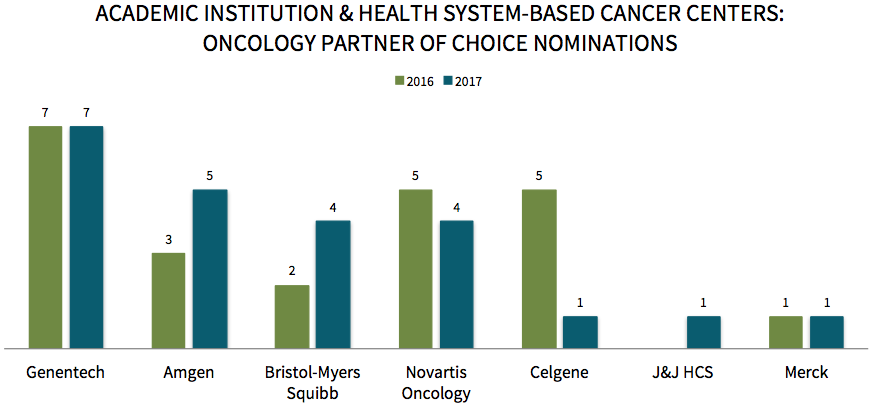 The full report provides a complete listing of partner of choice nominations and a detailed analysis of the factors driving selections year-over-year.
Cancer Centers Identify the Shift Towards Value-based Reimbursement as Top Market Trend in 2017. Respondents were asked to provide three market trends in 2017 with the highest potential to impact the cancer center business. Respondents identify the shift towards value-based reimbursement as the top market trend in 2017, followed by health care inflation and lower reimbursement, and rising costs of oncology medications.

The full report includes a complete list of cancer centers' top market trends, strategic imperatives, and operational objectives.
Genentech's Herceptin and Rituxan Receive the Highest Reimbursement Environment Score. Respondents were asked to consider and rate their reimbursement experiences, both positive and negative, across a market basket of 29 IV oncology products to produce an overall "reimbursement environment score" for each product. Herceptin and Rituxan, both Genentech products, have the highest reimbursement environment score, which was driven in large part by Genentech's reimbursement support services.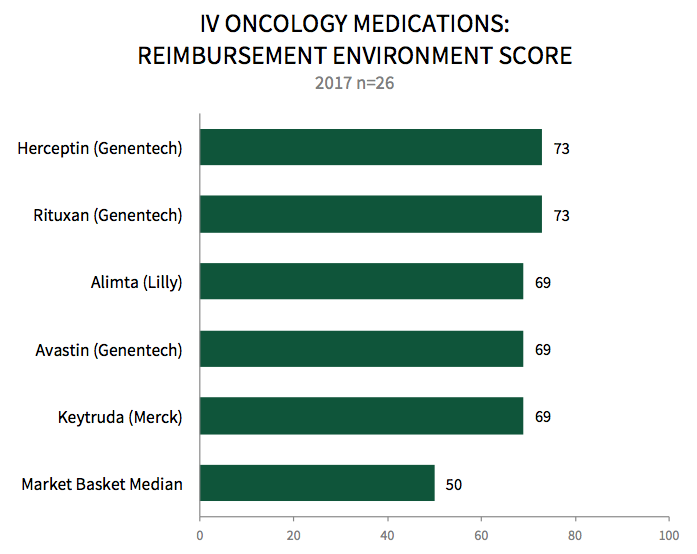 Research Methodology and Report Availability. In September, HIRC surveyed 26 executives from academic institution cancer centers and hospital/health system-based cancer centers. Online surveys and follow-up telephone interviews were used to gather information. The complete report, Academic Institution & Health System-based Cancer Centers: Market Trends and Manufacturer Competitive Assessment, is available now to HIRC's Managed Oncology subscribers at www.hirc.com.
Download a PDF of these Highlights
Download Full Report (Subscribers only) >